This is one of my young "boss" Eduardo's favourite cookies recipe. These truffles are delicious and easy to make! Enjoy.
Kitchen utensils you'll need: Mixing bowls (a large and a small one for rolling the balls in the sugar), wooden spoon, (small) colour paper baking cases.
Ingredients

300 g sugar, 300 g ground coconut, 3 eggs, caster sugar as required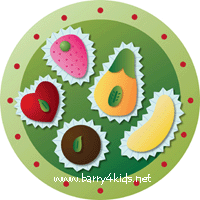 Coconut Truffles
Preparation

1. Mix the sugar with the ground coconut, add the eggs (whites and yolks together) and mix well. Let to rest for about half an hour in the cooler.

2. Model small balls out of the mixture, coat them with caster sugar and put them in colour paper baking cases.

3. Put in the cooler.