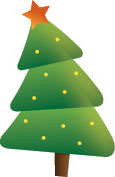 Decorating a tree with lights and ornaments has become a common tradition, and we almost forgot that its origin has nothing to do with the Christian world and came instead from a pagan celebration.

In fact, many centuries ago already, the Germanic people used a pine tree every year to celebrate the winter solstice on December 21: according to Germanic mythology, the evergreen pine tree was the symbol of vital energy and so reminded men that, even during winter nature was not dead and was about to start a new life cycle.

Later, when Christianity widespread in Europe, this celebration of December 21 was assimilated by Christian traditions, and the pine tree entered our homes and became our Christmas tree.

The first Christmas tree ornaments were the hosts, followed shortly after by candies for good girls and boys. By the end of the sixteenth century, the Christmas tree was already decorated with silver or gold nuts and hanging paper-flower garlands. But it wasn't until the eighteenth century that candles came into use. During the nineteenth century, glass ornaments of decoration started being produced in Germany. With time, the tradition of the Christmas tree spread out of Europe and reached other countries; it is still expanding.

In 1906 at the small town of Pietarsaari, in Finland, some people had the bright idea of bringing a huge Christmas tree to the main market place and decorating it with lights. Years later, in 1912, the New-Yorkers - who had no knowledge about the Christmas tree of Pietarsaari - had the same brilliant idea and thought they were the first to show a tree decorated with lights. But that was obviously not the case!

And now a curious aspect about pine or fir trees and other conifers in general. Do you know why these evergreen trees always look green? Well, it's because of their needle-shaped leaves that remain long on the tree and don't all fall at the same time!

The traditional Christmas tree in Portugal is a pine tree, the southern-European cousin-tree of the northern-European fir. Every country has its own traditions; and certain traditions are part of a country's cultural heritage - losing them, is losing part of its identity as an independent country!

The Christmas tree is not the only symbol of this enchanting season of the year. Other symbols exist as the cradle, the stars, the hanging stockings and shoes by the fireplace and, of course, also the Christmas colours, which are mainly red, green and yellow. To find out about all these symbols, use your mouse and go on... clicking! And should you like to make a few decorations for your Christmas tree, then go HERE!

You may also like to read the Legend of the Christmas Tree.